Employment returned to its February levels last month, and employment continues to increase for very recent immigrants.
Source: CIC News
Canada's economy gained 157,000 jobs last month, bringing the employment rate to within a percentage point of pre-pandemic levels.
Statistics Canada's Labour Force Survey captured the Canadian labour market for the week of September 12 to 18. That week, several provinces had introduced proof-of-vaccination requirements to enter certain non-essential venues like gyms and restaurants.
The employment rate is the number of employed people as a percentage of the population age 15 and over. In September, Canada's employment rate was 60.9 per cent, still 0.9 per cent under the February 2020 rate as a result of population growth.
The unemployment rate declined for the fourth consecutive month in September, falling to 6.9 per cent, the lowest rate since the onset of the pandemic.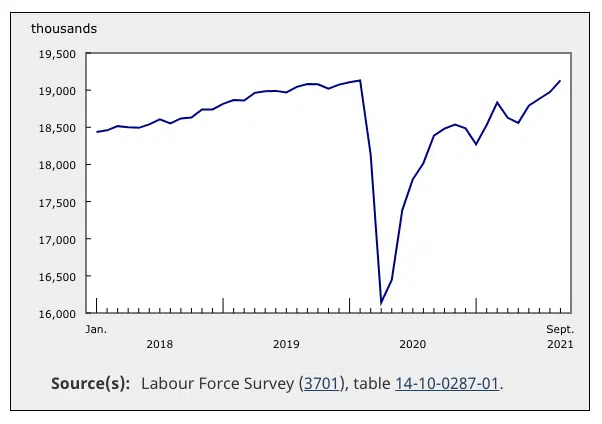 Employment continues to increase for very recent immigrants
The employment rate among very recent immigrants continued on an upward trend, reaching 71 per cent last month.
Although the overall population of newcomers has not grown over the course of the pandemic, the number of very recent immigrants working in some industries has grown. Namely, in professional, scientific, and technical services, as well as finance, insurance, real estate, rental and leasing. These two industries have had sustained employment growth throughout the pandemic.
Immigrants who have been in Canada for more than five years saw an employment rate of nearly 59 per cent, which is down about one percentage point from September 2019. People born in Canada had an employment rate of about 61 per cent, down two percentage points in the same time frame.
White collar sectors ahead while blue collar lags behind
The services-producing sector surpassed its pre-COVID employment level for the first time. The increases were led by public administration, information, culture and recreation, and professional, scientific and technical services.
By contrast, some industries such as accommodation and food services has yet to return to the employment levels seen in February 2020. This is partially due to the industry being heavily affected by public health measures. This September employment in food services fell for the first time in five months. Employment in retail also declined.
The goods-producing sector saw little change overall, which has been the case since it lost 94,000 jobs between April and June. Manufacturing and natural resources were the exceptions, both industries saw some employment growth in September.